Celebrating 10 Years of Collaboration and Achievement
Ten years ago, leaders in the wind energy and conservation/science communities came together to form a groundbreaking partnership, the American Wind Wildlife Institute. AWWI now represents more than 35 partners working together to solve wind and wildlife challenges through investment in scientifically driven practices.
Join Us in Celebrating 10 Years
The AWWI community will celebrate the past 10 years and our collective vision for the future through events and activities honoring our founders and champions including: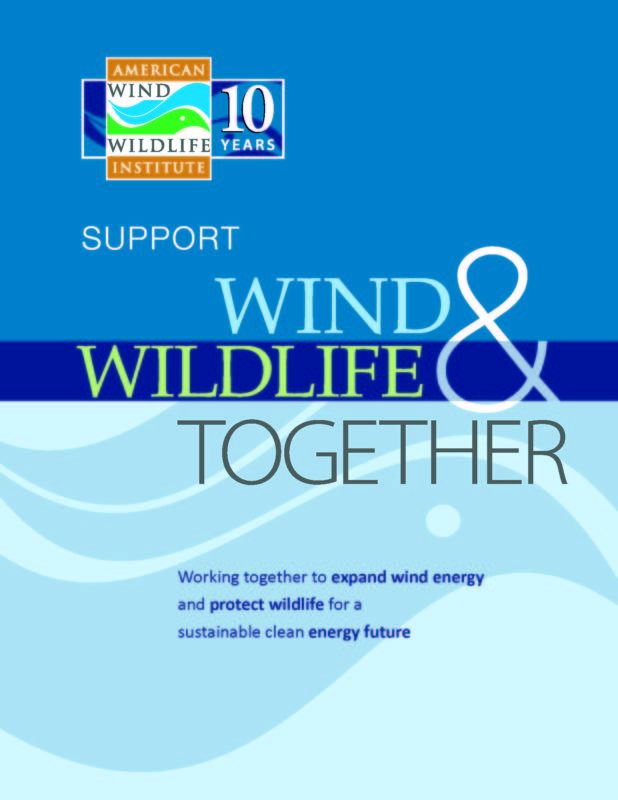 Wind & Wildlife: Together Campaign
Throughout 2018, AWWI and a committed circle of leaders are raising funds to launch the Wind & Wildlife: Together campaign. Through dedicated wind-wildlife research, solutions are being developed to provide cost-effective, scientifically-proven strategies that promote conservation and enable development to help meet the nation's demand for clean energy.
Wind & Wildlife: Together will support outreach and engagement to expand our audience, drive national research priorities, and report on new strategies and solutions.
The campaign also supports the launch of the James A. Walker Fellowship program to foster the future of leadership in wind energy and wildlife
We can shape our conservation and energy future, together.
View the Campaign Brochure and the Sponsorship Pledge Form to learn more about sponsorship opportunities and make a pledge.
Thank You to our Generous Sponsors!
Diamond: WEST
Platinum: ENERCON, Pattern Energy, Stantec
Gold: Apex Clean Energy, AWEA, DTE Energy, Nossaman, SWCA, Tetra Tech
Silver: Burns & McDonnell, Invenergy, IdentiFlight, Natural Resources Solutions, NextEra Energy, NREL
Bronze: Ecology and Environment, Energy Renewal Partners, EPRI, ERM, Ground Media, Longroad Energy, Olsson, Shoener Environmental, Tradewind Energy, USGS